Going to the Dogs
From Teacup Chihuahua to Great Dane, we have the perfect dog bowl stand for your pet.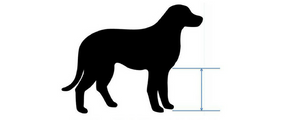 Which Bowl fits my dog?
To find the proper dog bowl height, measure from the ground up to the bottom of the dog's chest - where the leg and chest meet.
Farmhouse Style Dog Bowls
Testimonials
Can't say how much I LOVE our 3 bowl feeder. Bill was responsive and accommodating when we had a special request. He worked with us to get what we wanted. His work is high quality and sturdy. So worth the price. Thanks so much, Bill! For reference: we have two miniature schnauzers (they are a bit bigger than most min schnauzers) and the small feeder was the best fit.

Audrey H.
3 Bowl Raised Farmhouse Dog Bowl Stand For Small Breed Dogs

A real quality product, beautifully finished, like furniture. Thank you for making one in a bigger size, it was perfect.